Silent

Smooth Operator


Posts : 476
Reputation : 123
Status :

This is an opportunity for players to apply as a new captain and show their interest if they would like to join the league next season.
We
can't assure 
that your sign-up will be successful and get a place in for the upcoming season.
Season 8 will begin:
Wednesday 17th May 8pm UK Time
Code:

Team Name:
Team logo (150x150):
TeamSpeak logo (16x16):
Why you want to be captain:
Post in the format above
TIPS:


Be active, this will be the main aspect we will be looking for

Don't be an idiot, another important thing

A channel will be made for your team in the Captain Applications section on the PremierHax server which you can connect through the website under the team navigation bar, or just connect manually: 
Code:

ts.fm-haxball.co.uk:9988
Deadline to apply:
Wednesday 3rd MayIf you have any questions pm @ Honda Flashurai @Drix @Gjonaj
Drix

Administrator

Posts : 327
Reputation : 47
Status :

Sun Apr 16 2017, 19:24
Message reputation : 75% (4 votes)
Name : Oreo HC
Team Logo :
Why I want to be captain? Been in this league for quite some time now, and its about time Oreo HC made their rightful return as champions
somalian

Hyperactive


Posts : 97
Reputation : -28
Status :

Mon Apr 17 2017, 23:01
Message reputation : 100% (5 votes)
Team Name:
Heart of Lions
Team logo:
TeamSpeak logo:
Why you want to be captain:
Here at Heart of Lions we do not discriminate against players with lower abilities. We often refer to the quote "It's not about skill, its about heart" indicating that its those with hearts of lions that surpasses their opponents... despite the odds being stacked against them. We wish to bring a more communal and friendly atmosphere to the league, although we will be competitive and try our hardest, getting people involved will be our number one priority.
I believe I am the correct candidate to captain this application as I feel i've come a long way. I've organised a number of events such as Moovy Groovy, a number of individuals who watch movies together on TS which has been a great success, we managed to peak at an all time high of 7 viewers last week.
My exams will be over in the next few months I will therefore be free throughout the summer and extremely active to play some Haxball. I hope my application will be treated fairly as I feel I have a lot to offer to this league.
Thank you for reading my application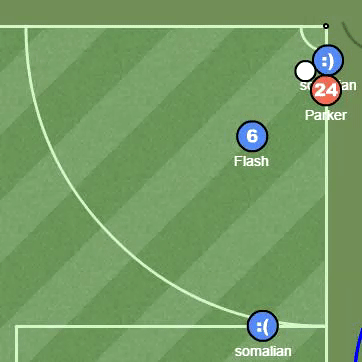 Cazorla

PremierHax Member


Posts : 62
Reputation : 68
Status :

Mon Apr 17 2017, 23:50
Message reputation : 100% (1 vote)
Tracksuit Gang
Why I wish to be captain:
I wish to let it be known that over the last few years, I have amassed an innumerable collation of knowledge on the art of the tracksuit. A tracksuit cannot simply, merely, straightforwardly be particularised as a plain and modest set of garments donned by young men of questionable characteristic dispositions who may or may not have previously been involved in criminal activities or the like (roadmen, as they are known to be within the boundaries of quintessential inner city London); it is an art form. It is a requisite that every aspect, bearing, angle and form of a tracksuit must be assembled and completed to perfection. At Guard Dogs, it was CM Punk who enlightened me on the perfect colour for my tracksuit and the finest possible trademarked brand name to be displayed by the manufacturer of the said garment. To this day, my tracksuits bear the ultimate emblem of premium quality: Lonsdale. It is my experiences last season however which shaped me into the tracksuit donning youth which stands before you - under the leadership of giggs', a distinguished and indisputable champion of roadman style, I mastered skills such as tucking my Umbro socks into my joggers, and showering only once a fortnight in order to conceive and construct the perfect greasy, odourous fragrance to accompany my countenance. With the accumulation of skills assimilated during my time, and my endless passion and determination, I am confident I can lead a team capably and sensibly. I am available to play every day and every hour due to my lack of qualifications/study credentials and work suitability otherwise.
Thank you for reading my application
Ferg

Promising


Posts : 35
Reputation : 5
Status :

Name: Hashtag United
Team Logo:
TS Logo:
Why i want to be captain: Because i want to have active team where i can fs if its possible and i want to improve myself aswell. I never rage at my teammates and i want to prove to everyone i can be serious and good person.
Jesé

New Member


Posts : 17
Reputation : 1
Status :

Team Name: Meh Squirrel
Team logo (150x150):
Why you want to be captain:
I want to be captain because i really enjoy playing 3v3, also in my opinion im a pretty good captain, I am captain now for MS in fm, and imo im doing fine
Permissions in this forum:
You
cannot
reply to topics in this forum