UKOriginal

Energetic


Posts : 199
Reputation : 45
Status :

Mon Feb 20 2017, 22:30
Message reputation : 100% (4 votes)
Hello and welcome to our second interview of the season. Our second interview will be with Swift. Preseason Cup winner & Season 6 Top scorer
---
Hello Swift, how are you today?
hey, im fine thanks
We already know each other, but could you give a brief introduction about yourself, as there might be some who don't know you?
well everyone knows me tbh, but im Swift , best player u've evr seen sfe
Ye we know you as a dickhead but thats not the point. Why did you pick the name "Swift"? And have you used any other nicknames before that
ur a dickhead fam
and i picked it because it sounds cool and taylor swift is <3 so yh. although i like drake more
Both of them are shit tbh. But tell us what is your background in Haxball? How did you find the game and when did you start playing competitively?
LOL stfu they are both sick. and basically I was on the EA forums and someone posted a link for it and thats how I started playing it. i found it really fun :p and i actually got signed 2 weeks into playing the game in Haxball Galaxy by Giants haha then i started haxleague also, and had a really good time there
When starting your career, which teams did you play for? Which ones were the most successful? Were there any memorbale teams you have played for (other than TeamSwift)
well, when i first started i guess the first team that i enjoyed playing in was when i was asked to take over captain of Serious Business in Haxleague (which was literally 1 month after playing hax). That was really enjoyable and helped me improve a lot. i guess another team would be Tsunami in HBC when we won division 1 and that was really good to play in too. but TeamSwift has by far been the best team ive played with, played with some really good players and still am now.
So you have won many many personal and team titles. But what would you consider as your biggest achievement(s) by now?
hmmmm probably it would be when I won haxleague division 1 where I also got top scorer and top assister... i really enjoyed that season and played with really good players too
some other achievements would be winning HBC division 1 and probably last season when i got topscorer in premhax... also had some amazing moments in haxball galaxy with bliz and Love London probs forgot some stuff but i guess it will be too llong to list init MANS GOT TOO MANY ACHIEVEMENTS
Haxleague surely isn't a huge achievement (soz haxleague) considering how close you came towards lifting the premhax trophy, losing out narrowly to giggs in the final. How do you feel about giggs and bromley fc in terms of the upcoming season
well it was a big achievemnt at the time because really good teams were playing in it. as i said i have many other achievements, that was just the season that i most enjoyed! and ye it was really close but just didn't play well enough in the final i guess. and Bromley FC are just leicester lets be real... one season wonder, now they going to fk up big time. giggs is a midget
You have lost your main man Wildey to your rivals Bromley FC! How do you feel about this?
and yeee wildey is a loss, but np i carried him last ssn. i stitll got the main nobhed caccapupu and now we got cazorla and beni to replace wildey i guess it isnt such a big miss. the playrs ive signed are really good as u saw from the pressn cup
Being realistic, where do you think you will finish this season?
We are going to win the league, this is now or never tbh because our team is clearly the strongest. and also wanna win the cup too!
A wise man once said aka roadman Flashski, your ego is bigger than somalians head, was this man correct? or not
loooool flash can suck a dik. come meet me south west london ill bang him up
I'll take that as a yes. You are currently ranked 12th for xp. Are you happy or are you disappointed?
lol why would i be disappointed when i've only played 2 full seasons in premierhax.. i dont think thats bad at all. couple mor essns ill be top 3 in no tie
You have been in Premhax for quite a while now. How do you view PremierHax's development over the past few seasons?
well for the past 2/3 seasons ive been here i feel its got more popular and this season looks exciting with lots of effort being put in by people! hopefully this can continue in the future
Would you say that the admins could do anything better or it is completely perfect like it is now?
i think it's fine for now considering they are anew admin team, the addition of a cup was a very good idea
maybe banning splat is the only thing left to do
You qualified into HCL this edition. Are you excited or are you nervous?
oh im really excited i lost in the first round with cant score last season to the eventual champions, and i really want to have a go at winning it this time !!
You won the Pre season cup deep in OverTime but Cacca was seen lagging on a goal would you have done the same as giggs in that position and rejected this call?
Well yes cacca posted a screen of himself lagging on the goal but ofc giggs didn't fp cos hes scared of us
if they showed proof like that, then I would have deffo given fp, only if it was solid proof tho
After the recent saga with B4d 4ss and styl it seems you were in fact the leading scorer, how do you feel about that and the undeserved attack you got on the forum?
well I felt it was completely unjustified and i proved them wrong easily so obviously they are just attacking me for no reason. styl has admitted to me in ts that he was wrong so thats good, but b4d is still a sore loser cant wait to fuck him up in premhax and FM
first the preseason cup now the league ;0
If you was Team UK Captain what would be your main lineup?
gjonaj/gqku - mad/bliz - swift/vak - aero/swift/vak
You was lucky, Wednesday we will win
we will show who should have won.To finish this interview do you have any shout outs?
no luck ,just skill
we deserved that win dont even try it loool. and no i dont, but @ b4d @ splat cant wait to fuck you both up in the league noobs. splat already pussied out of our game vs LGB today , lets see if he does it again
gl to the rest for the season
Thanks Shisha lover, btw when do i get the snap??
LLOL never she is forever mine
Rip
- Sheepshaggers -
- Season 2: Finished 4th in Division One -

- Hot Shots -
- Season 3: Finished 7th in Division One -

- Sheepshaggers -
- Season 4: Finished 1st in Division One, CUP WINNERS! -

- DEJA -
- Season 5: Finished 4th in Freznez Conference, Preseason Cup Winners -

- Bromley FC -
- Season 6: Finished 1st in Mlfaijati Conference, League Champions -
- Season 7: Finished 3rd in Division One
Gjonaj

Smooth Operator


Posts : 449
Reputation : 116
Status :

I would like to put an application to impeach this guy

asap

Please cosign this
Never confuse emotional with weak. I'll slit your throat with tears rolling down my face.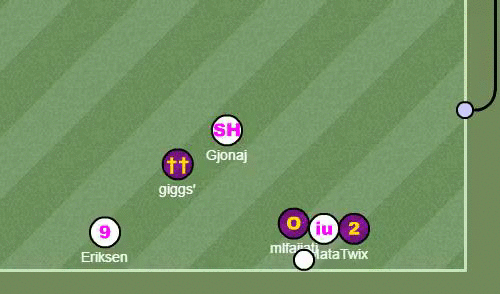 Permissions in this forum:
You
cannot
reply to topics in this forum