corn

Administrator

Posts : 1389
Reputation : 141
Status :

Sun Mar 27 2016, 02:47
Message reputation : 100% (9 votes)
This is the Season 4 Mock Draft. Here I predict who will be picked by each captain from the first two rounds. Please make your own predictions too.

1. L8 Unseen - ParanormalActivity. Swiezcka, a new face in PremierHax will start off the proceedings and I believe he will bring in his right hand man in the 1v1 ladder ParanormalActivit. The Pole who resides in the UK has impressed in pubs and PremierHax rooms alike and could be seen as a player on most captains draft lists. Both he and captain Swiezcka like to pass the ball around and play fluid Haxball so this signing makes sense for both parties.

2. FOX HOUND - Jds. If there was ever a Harry Redknapp and Niko Kranjcar partnership in Haxball then it would be Twigg and Jds. Where one goes, you can be sure that the other isn't far behind. Jds is a seasoned pro and whilst not the most technically gifted player in the game, shows stability and on occasion, flashes of brilliance, whether that be a perfect wallbounce to beat a player or the speed in which he slams his fingers down on his keyboard when he makes a mistake.

3. Guard Dogs - Stefan. CM Punk's Guard Dogs return to the league, having disbanded at the end of Season 2; a team where Stefan was seen as one of the key players of the team. I can see CM Punk bringing him back for a second spell with the Dogs, leading the line and once again attempting to top the goalscorers chart. Stefan is a player that can find the back of the net with his eyes closed, but also requires service and a stable midfielder to do the defensive work. Can captain CM Punk, who impressed with the Dark Horses step up to the mark this season?

4. arsenal - Tanzim. Pass, pass, pass is the arsenal way and Tanzim is a player that epitomizes this. Tanzim is a player that enjoys passing the ball and playing a fast, fluid and aggressive style. With Tanzim in your side, you can expect goals, but can you expect reliability? This is a question asked by most, but I feel that abacus will take the risk here and use his first pick on the former CUNTS captain in order to play the style of haxball that he wants to play.

5. Pelicans - ???

6. Soccerettes - Kamina. With socrates dropping to the bench for this season, Soccerettes are in dire need of a goalkeeper that can fill his boots, and who better than Kamina who recently won the treble with Channel 3 alongside Yawn and naho? Socrates knows the German international from playing in the 69erz team alongside MrP who also plays for the club and this chemistry between the German duo could be what seperates them from a disappointing season like last season and a Champions League place.

7. Sheepshaggers - Hopsin. "B4D, B4D I just found our GK for Season 4!" an excited Doc squeals as he looks to establish himself alongside UK's elite. Who this GK will be, who knows? But with it being said early on in the draft thread, and the fact that he and Doc play together at Hot Shots in FM, there is plausible reason to believe that the GK Doc was eyeing was the Dutchman. Hopsin is a solid player that can create chances, however can be slightly temperamental. If Doc and B4D work together in attack with Hopsin doing the dirty work at the back, this could be one of the signings of the draft.

8. HK Stalingrad - Mad. I think Ren's idea for the draft this season will be to sign another UK international to go alongside himself and Ogre, and use their experience and expertise to blood through the next crop of promising UK talent. Mad is arguably one of the best players in the draft and would be a great signing for any team. His availability is questionable, but it's a risk that I believe Ren will take, as he can pick more active players later on in the draft, whilst securing "the best player ever to play in FM" early on.

9. Can't Score - Jai. Jai put in a clause in his application that he only wants to play for mlf's team and no one else. This I believe will put off potential suitors for his services until mlf's late round pick where he can secure the experienced GK and UK international. This will not be pastures new for the Welshman, as he also played with Can't Score in Season One alongside the current captain. With Jai in the side, alongside mlf who is a UK international and giggs, a promising player, Can't Score have got to be seen as one of the favourites for the title this season.

10. DEJA - Beninho. To be honest, I have no idea who they will sign, but I do believe that they will look to sign a goalscorer. Captain Speaks and vice captain Diesel form a solid spine that saw them surprise many and finish the season in second place. With Ahmed and Swift ineligible this round for DEJA, I believe that they will look to secure the services of Beninho who has improved rapidly under mlfaijati's tutelage. Going from a fifth round pick to a first round will surely put Beninho in the spotlight, but after seeing his performances for the Hopefuls, I believe he will thrive upon it.

11. arsenal - chuckdog. With the controversial Indian seemingly enjoying the game once again, and after seeing how the trio of he, Tanzim and abacus undress teams with their fast paced and destructive style of play, I believe that abacus will make the move for the former Power Rangers captain. Chuckdog, like his gran Jds, is a seasoned pro and has played for some of the top teams in the game, including the famous ARRIBA! team that took down Northern Lights in that famous game in Season Four. The only question I ask is - if results don't go arsenal's way and they find themselves near the bottom of the table after a few games in, will we have an impeach on our hands?

12. Guard Dogs - Yawn. Many would be surprised to see Yawn this far down the list, and indeed being picked in the second round when arguably he is a first round player. Yawn is a player that has a lot of attributes to his game; he can pass, shoot, defend, goalkeep and provides a calming influence in games should others make mistakes, atypical to those that often play in European leagues. His experience with the Yes Allstars will surely be invaluable for whoever signs him this season.

13. Fox Hound - Shootstar. Many look towards Beninho and giggs as the future of UK Haxball but I believe that they should look more closely at Shootstar before making such predictions. This is not said in any way to defame the abilities of the former Can't Score duo, but Shootstar has only recently started playing and is already one of the UK's hottest prospects. This is his time to shine and where better place to start off than in the company of Jds and Twigg who will nurture him and help bring through his talent? This kid is one to watch.

14. L8 Unseen - Nub. Swiezcka is a player that often plays in public rooms so I think that he will recognize the talent that Nub possesses. I think Nub is a solid goalkeeper, but has listed that he can play anywhere across the field. Time will tell on whether he makes an impact in midfield or as a forward but I believe that Nub will be signed as a goalkeeper and with the faux US player keeping their defense intact, they will believe that they can win.

15. Pelicans - ???

16. Can't Score - Cazorla. With mlfaijati recruiting talent last season from the Haxsports Teamspeak with resounding success, I believe he will look there again and sign Cazorla who I believe can make it far in the game. Cazorla is a player that likes to pass the ball and dictate the tempo of the game, and is a player that giggs is familiar playing with. Playing alongside mlf and Jai will surely improve him as a player and put him into the spotlight. This could be a shrewd pick.

17. Soccerettes - Hannes. Another player who has played alongside both MrP and socrates, Hannes is a defensive machine. Few strikers will enjoy coming up against Soccerettes this season with the plethora of defensive talent I believe they will have at their disposal and they could be the team to concede the fewest goals next season. I do worry though, that if they do pick Hannes, where the goals will come from. As I say, Hannes is a great defensive player, but his cautiousness could mean that the Soccerettes create few chances each game, so whilst they may concede a few, I think they may be goal shy too.

18. HK Stalingrad - aeRo. I did say that I believe that Ren's intentions this season is to blend youth with experience, but he will also have an eye on the title, so why would he pass up the chance to sign aeRo if he is still on the list at this stage of the draft? Mad, aeRo and ogre could wipe the floor with most teams in the league, having played together with the successful ACDP and with the UK National team. aeRo also provides that availability that Mad lacks, and can also help tutor and blood through the newer talent in order to help UK Haxball progress even further on the international stage.

19. Can't Score - Q. I think that with Beninho gone, mlf will want to sign a familiar face, and a player that helped  contribute to Can't Score's great season, finishing in 3rd place last season. Many tip Q as the most promising talent the UK has, and surely learning from Jai will help him become that DM that the UK National team seem to desperately need.

20. DEJA - Ahmed. DEJA weren't allowed to sign Ahmed in the first round, but if he is still available at this point in the draft, then I think he will be picked up by them in this round. Ahmed who can play anywhere on the field, is a skillful player that has good chemistry with Diesel. I would be excited to see how he plays alongside Beninho. There you have a good goalscorer alongside a strong mid in either Diesel or Ahmed, with Speaks keeping the sheets clean. DEJA seem to be a team that prefer to sign more pragmatically minded players and this philosophy is paying dividends.

These are my picks, would be intrigued to see yours.





"We used to pride ourselves on producing midfield artists in this country. Players like Tony Currie, Alan Hudson, Glenn Hoddle and Paul Gascoigne were just a few English playmakers developed in our clubs - players who could peel an orange with either foot but sadly no longer. What a pleasure then to see an artist at work even if he is a foreigner."



https://gfycat.com/CoolBigheartedGiantschnauzer

https://gfycat.com/AthleticPhonyHylaeosaurus
socrates

Smooth Operator


Posts : 468
Reputation : 219
Status :

Sun Mar 27 2016, 09:49
Message reputation : 100% (1 vote)
Really good read - nice one
The draft is very hard to predict this time - should be a good one.
B4D 4SS

Superman


Posts : 728
Reputation : -124
Status :

Sun Mar 27 2016, 11:30
Message reputation : 100% (1 vote)
u put cant score as 16th and 19th pick, good read tho
SSN4-SSN7-SSN8-SSN9-SSN10 - PREMHAX CHAMPION

RECORD OF MOST CONSECUTIVE SEASONS WON (4) - SSN7+SSN8+SSN9+SSN10

RECORD OF MOST SEASONS WON OVERALL (5) - SSN4+SSN7+SSN8+SSN9+SSN10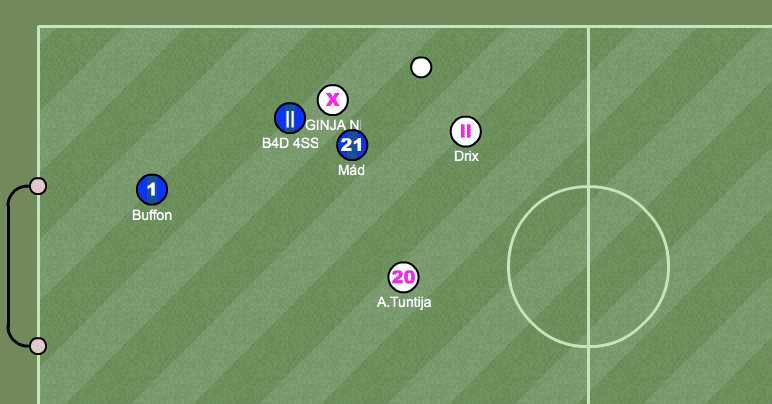 mlfaijati

Administrator

Posts : 642
Reputation : 190
Status :

Sun Mar 27 2016, 12:28
Message reputation : 100% (1 vote)
ye we traded a pick with hot shots last season

good read, some questionable picks but i'd say half of these will probably happen
I wouldn't trade one stupid decision
For another five years of life

Yeah, I'm losing my edge.
I'm losing my edge.
The kids are coming up from behind.
Geslan

Promising


Posts : 35
Reputation : -14
Status :

Mon Mar 28 2016, 11:03
Message reputation : 0% (1 vote)
Yeah man I got free style skillz from minisoccer. Minisoccer>haxball
Nothing that's worthwhile is ever easy. Remember that.
Permissions in this forum:
You
cannot
reply to topics in this forum