Guest

Guest

Just my humble squad what wud urs be like...??? (Players who have played for European clubs only)

                                       Neuer

  Lahm (C)       Cannavaro     Puyol       Maldini

                          Makelele       Schweini

  Ronaldinho               Scholes               C. Ronaldo

                                      Messi

Bench: Buffon  R.Carlos Ferdinand  Iniesta  Zidanne  T.Henry  Ronaldo
Guest

Guest

you've worded it pretty poorly but I guess the criteria is if they played for a European club at some point in their careers. I'll only include people I've seen enough of.
Schmeichel
Alves Cannavaro Nesta Maldini
Matthaus Iniesta
Messi Zidane C. Ronaldo
Ronaldo
Bench: Buffon, Lahm, Puyol, Keane, Ballack, Baggio, Henry
pretty happy with that. Tried to make it as balanced as possible.
Rénbeaudach

Administrator

Posts : 689
Reputation : 152
Status :

Thu Mar 03 2016, 14:05
Message reputation : 100% (1 vote)
Schmeichel
Cafu Baresi Nesta Maldini
Xavi Matthäus
Messi Zidane Maradona
Ronaldo
To complete a squad of 23 I'd include on the bench:
Zoff, Buffon, Thuram, Moore, Cannavaro, Lahm, Sammer, Iniesta, Platini, Cruyff, Di Stéfano, Cristiano Ronaldo
Might be more interesting to do it with some more constraints, perhaps just players who have played since the 90s as those are ones we'd have clearer ideas of, still always a fun thought experiment.
corn

Administrator

Posts : 1389
Reputation : 141
Status :

Thu Mar 03 2016, 14:16
Message reputation : 100% (1 vote)
I'll base it on players I've seen play and consider all my picks as if they are all playing in their prime. I only really started following football in 06 so although I know and can acknowledge that the likes of Zidane, Cantona, Maradona, Garrincha, Zico, Pele etc. were all fantastic players, I never actually really saw them play more than one full match (in the case of Zidane) or have only watched highlight reels (in the case of the rest). So this is my list.

Buffon
Cafu-Cannavaro-Lucio-Maldini (C)
Makelele
Lampard-Pirlo
Messi--------C.Ronaldo
Drogba

Manager: Sir Alex Ferguson

Bench:

Van der Sar

Terry

Lahm

Cambiasso

Ronaldinho

Robben

Eto'o
Guest

Guest

Ye I should have added players you have watched and players who have played in a European club
Beninho

Dynamite


Posts : 262
Reputation : 73
Status :

Neuer
Alves Cannavaro Puyol A.Cole
Xavi Alonso Vieira
Messi Ronaldo CR7

Doubt this is the best XI of the players I've seen extensively but I like it anyway.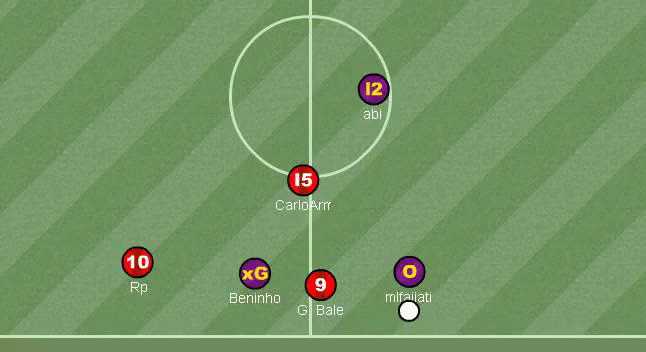 Permissions in this forum:
You
cannot
reply to topics in this forum