Gjonaj

Smooth Operator


Posts : 449
Reputation : 116
Status :

Sun Feb 26 2017, 13:36
Message reputation : 100% (1 vote)
 vs  
Time: 20:00GMT
Venue: Hayes Lane
The Champions have shrugged of any false claims that they are the leagues Leicester by defeating rivals TeamSwift in another close game. Both Teams bought their A games but a lagging Caccapupu was the difference.  The next clash for the Champions in pursue of retaining the championship again this season is a home tie against DEJA, who are yet to start their campaign. DEJA's opening game was called off due to a protest by fans to stop signing foreign mercenaries. Former Player Azsy was on the opposing side of the demonstration here's a picture;
As service resumes back to normal for the former FM team, they would want all time top scorer to get in the action as soon as possible. However if Ahmed brings his Mignolet game then this could go one sided very quickly.  Aitor should return after missing out with a thumb injury. Both GK are regarded as the best in the league behind caccapupu so it wouldn't surprise me if it ended 0-0.
Punk Prediction: Bromley FC 2-2 Deja Entendudes

Bromley FC: WDWWWW
DEJA: PLDLW
vs
L8 Unseen vs TeamSwift
Venue: Border Force Stadium
Time: 20:00 GMT
Flash Smashed in 2 goals on Wednesday night against the not so Flying Peacocks. Destorm found himself with acres of space but stumbled with the ball inviting Diesel to put TFP one up. Flash will be happy with the teams response as they managed to win 3-2 that so without Vakoj. Pigeons met up with Flash and he had to say this about the league;
"Its fantastic, we've been here what not even a month and we've done more work than our predecessors combined, i mean sure they laid that foundation but there was no real motivation or any interest on their part bar corn and maybe ren. Here's for the seasons to come."
TeamSwift on the other hand found themselves losing to arch nemesis Bromley FC. Sources close to the Club say that two players handed in transfer requests. It's unclear at this stage who the players were but one thing is for certain a loss at the Border Force stadium in the leagues opening Monday Night Haxball will see a departure or two. Caccapupu is a doubt for this fixture after breaking his x key on his keyboard. Mata returns to the fold and will slot into the goal. Cazorla and beninho will fight for the strikers role because swifts ego duh...
Punk Predicition: L8 Unseen 1-4 TeamSwift

L8 Unseen: WWWLL
TeamSwift: LWWWW
 vs
Venue: Beninho's Roundabout
Time: 20:00 GMT
LGB started the season with a routine victory over Pelicans. It all started with a scare for LGB after KoL's early strike but vaqq and splat knuckled down and bagged 3 goals together. Soccerettes on the other hand were unable to play after their fans and DEJA fans united to protest against foreign players and staff at their respective clubs. Skipper MrP had this to say about the fans who demonstrated last week;
"Ignorance and prejudice are the handmaidens of propaganda. Our mission, therefore, is to confront ignorance with knowledge, bigotry with tolerance, and isolation with the outstretched hand of generosity. Racism can, will, and must be defeated...Men build too many walls and not enough bridges."
It's going to be a tough ask for the season 2 runners up but soccerettes are not ones to give up easily. Defending is what they're best at so expect a fearsome triple-decker bus parked in Beninho's Roundabout. As for the home side skipper Maddude should be available which all but ensures a victory on Monday. Lunatic Mootje might return if MrP believes be deserves a call up after issues on the training field.
Here's aero watching from the stands on Wednesday.
For more in depth analysis of this match please read flash's preview:
https://premierhax.forumotion.co.uk/t1479-let-the-games-begin-vs-soccerettes-tactical-masterclass
Punk Prediction: Let The Games Begin 2-1 Soccerettes

LGB: WWWLL
Soccerettes: PLDWL
vs
Venue: Signal Hax Park
Time 20:00 GMT
As always a bottom of the table clash and one of the very few chances either of these sides has to get points. Without ogre TFP as mentioned millions of times before look below average even for a UK haxball league. Pelicans though in my humble opinion are underrated and have a lot to prove. At times against LGB they looked decent but they couldn't hold themselves together. They 'fs' a lot and I'm sure will build a good team very soon.
The Flying Peacocks can only hope for the waivers to open so they can attempt to sign BANKS. Who is a proven striker who captained Andale to victory in the inaugural season of Premhax, but he is growing old and has lost a bit of ooze since then. His later ventures include captaining a monstars side that underachieved and inevitably disbanded after two piss poor seasons. However this is the 3v3 Format and fans of TFP think it would be a terrific signing, it shows promising signs that the club is doing its best to hang in with the other clubs. Jerix -Twigg - Diesel looks like the available formation but pelicans will see themselves as favourites.
Punk Prediction: The Flying Peacocks 0-2 Pelicans
TFP: LLLWL
PELICANS: LLLLL
How it feels for both these sides to climb the table
Never confuse emotional with weak. I'll slit your throat with tears rolling down my face.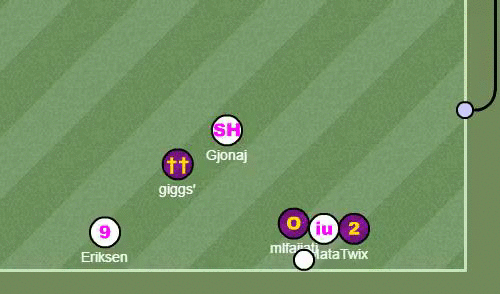 giggs'

Forum Bangout


Posts : 316
Reputation : 13
Status :

Sun Feb 26 2017, 14:11
Message reputation : 100% (1 vote)
@Gjonaj

wrote:

Both Teams bought their A games but a lagging Caccapupu was the difference.  
same old excuse LOL
Permissions in this forum:
You
cannot
reply to topics in this forum