Gjonaj

Smooth Operator


Posts : 449
Reputation : 116
Status :

Tue Feb 21 2017, 18:27
Message reputation : 75% (4 votes)
 vs  
Time: 20:00GMT
Venue: 7meedo
Soccerettes start their campaign with a difficult tie in the new DEJA stadium the 7meedo, at the regular PremierHax time of 20:00GMT. Both teams having being plagued with offield incidents. A racist slur followed by more racist insults, Flaviu has been banned indefinitely but this won't affect DEJA in the slightest. All time top goal scorer who's taken up the name styl in recent times challenged TeamSwift captain and PremierHax Statistician for the season 6 top goal scorer crown. It is still unclear if his efforts where in vain but for now it seems the newly appointed stats man is the leader.
This tie looks to be a goal fest with both DM's always looking to push as far forward as possible. Not only that players like Styl and B4d 4ss do like to beat the nonexistent offside trap. MrP has bought in his close friend hannes who could be a safer option to slot into goal. He is a handy addition one that MrP will not have to babysit unlike the Dutch talent Hulk aka mootje.
Both Teams have started their campaigns with semi final appearances in the Pre Season Cup but that was as far as they could get. DEJA having to win a star studded LGB and knocking them out on their way to the semi final. Soccerettes like DEJA finished 2nd in their respective group. However one thing to note is they only conceded 4 in the group in comparison to DEJA's 8. It will be a great back and forth encounter
Punk prediction 3-2

Deja: LDLWW
Soccerettes: LDWLW
(Most recent match first, only regular season result shown)
---
vs
---
Venue: Border Force Stadium
Time: 20:00
Neither Side could get further than the group stages or make a reasonable impact in the pre season cup. L8 unseen got their only win vs Group B minnows Pelicans. TFP won the wooden spoon in Group A and really looked out of sorts. Captain of L8 Unseen will be trying to replicate his achievement in Season 5 where his team were runners up. A lot has changed since then and Flash has a Polish expat trio of himself vakoj and drix. Flashin' is not expected to be at the Border Force Stadium on Wednesday due to a common cold.  Fellow Dutch partner CHE is likely to start but former ACDP star Destorm has been noticeably missing from training the past few weeks. It is unclear why but captain flash did say this;
The Away side will be coming to the Border Force arena with some confidence though only losing once in the last 4 encounters with L8 Unseen. As Usual Jds picked a inexperienced side full of emerging talent but talent that's not quite ready for the big leagues. One person who doesn't fit that category is ogre who has like DeStorm been missing since draft day. Pigeons near TFP headquarters met up with Jds and they recall this from some of the chat;
'I got something to tell you errrrr it is ogre, he wants to leave and the club asked as i said so many times before we don't wanna sell him, we said hundreds of times that we don't wanna sell our best players we want to keep them. He is definitely one of the more our best player thats why we gave him such a long contract errr i informed him with that and he refused to play for us so i have a team to manage and errr his probably been pepped up by some clubs which is usual in this time of year....until he change his attitude he's out of the team, he aint gonna train with us....we aint gonna sell him'.
With that being said how are the Signal Hax Park faithfull's going to react. Many have asked for his head but Jds has a forgiving personality and we are positive that they will at some point come to an agreement and sell the former Guard Dog and HKS Goalkeeper. We couldn't quite get a word from him but we did manage to spot him playing football in his local Sunday league.
Apparently The arsenal where beating local Sunday league rivals Sutton 2-0.
Punk Prediction: 3-0

L8 Unseen: WWLLL
TFP:LLWLW
---
vs
---
Venue: White Hax Lane
Time: 20:00
LGB open their season with a trip to White Hax Lane, a place where they will expect a win and nothing less than 3 points. Last season was a disappointing one for LGB and much worse for Pelicans. However since then Pelicans have released the duo of corn and lumi and top takeover the legacy have inserted Boyd, we managed to catch a few words after the pre season cup.
"Its gonna be great season, its gonna be absolutely  fantastic. We have the best players, truly the best. We had some players trying to come in and destroy what pelicans stands for so we shipped them back. Total scumbags! As for the last administration total disaster, absolute disaster. So we have decided to put up a wall on our training complex. A great wall and guess what they're paying for it. We have the best Goalkeeper, he best truly the best in the world. Oh yeah and guess what, his job is to stop the ball from hitting the net that's all, isn't that fantastic i love goalkeepers. Remember this season it's Pelicans First!!!"
LGB on the other hand were feeling the pressure after yet another lacklustre performance. Ginger irishman rage quitting mid match vs teamswift after having his ass handed to him by former swaghax member beninho pretty much sinned up the problems. Maddude aero and bliz is a team that should be reaching the finals of every club competition yet tomorrow they play pelicans a team that is truly high on confidence after those words from boyd even though they couldn't get a pint in the pre season cup.
Punk prediction LGB 6-2

LGB:WWLLL
PELICANS:LLLLL
---
---
vs  
---
Venue:Views From The 6
Time: 20:00
Season 6 runners up took the first blood of the new era of PremierHax by defeating rivals deep in overtime. TeamSwift took the lead before it was cancelled out by giggs. A ping graph showing clear spikes was captured by Caccapupù but to no surprise Bromley FC turned a blind eye. Seeing as Cacca was constantly lagging from that moment onwards and Gjonaj too. So skipper swift decided to fall back to goal and cacca was left to play outfield, which turned out to be a match winning move, cacca scoring a rocket that sent bromley to the moon and back. No need to give credit to the person who called that move.
Bromley were missing Aitor which might have made the difference but A.Tuntija looked just as solid. TeamSwift were without Mata and cazorla 2 players who are amongst the best in the league with them back is difficult to see wildey and giggs stopping them at Views from the 6.  A lot will boil down to getting cacca as far up the pitch as possible for Bromley because that's where he is most vulnerable. If he ever decides to camp it would be very rare to see a goal going past him but the neuer of the league loves to play his part in setting up goals.  We met up with the italian straight after the pre season cup, here is what he had to say.
"I didn't ask for fp because i knew they would not give it… the screenshot was for my teammates so they knew why i conceded. I knew giggs was ginger but i didn't think all gingers lacked class, but here's the gingers of haxball proving me wrong. In regards to the league game let's see, let's see."
Punks Prediction: 3-1

TeamSwift: WWWWW
Bromley FC: DWWWW
Thanks for reading, i did most of it on phone yet again so allow the poor editting. Could use with a hand in future previews so if anyone has a few mins to spare pm me and ill let you know how you can help me.
Never confuse emotional with weak. I'll slit your throat with tears rolling down my face.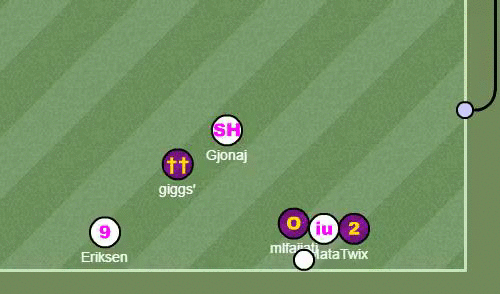 Permissions in this forum:
You
cannot
reply to topics in this forum