corn

Administrator

Posts : 1389
Reputation : 141
Status :

Sun Jul 10 2016, 00:04
Message reputation : 100% (8 votes)
Freznez Conference
HK Stalingrad - HK Stalingrad have always been a team that are highly rated at the start of the season, but never make that title challenge that one might expect. The onus is now on Ren to change fortunes somewhat and win his first PremierHax title. I think Ren has drafted smart, with Sebastian returning to the team, alongside ogre, the three have great chemistry. If one of those players can't play, then Element who had a solid debut season should slot into the side fairly easily. They then have the versatile Aitor who can fill in effectively in every position and a player I was surprised was still in the draft at the point in which he was signed. Stringerbell is a pretty dependable, non flashy player that probably won't play too many games, and lastly we have Redstar, a new UK player who should improve rapidly under Ren and Ogre's guidance. I think with this balace and quality of depth, that HKS will win the Freznez conference.
<16:07:03> "Rénbeaudach": Well as in every season the objective is to become league champions; I think for another season running I've made some subtle but significant improvements so I'm hopeful that this is our best opportunity yet to fulfil that aim, whilst still being midnful that the majority of teams will have done the same. As a bare minumum I would expect us to secure second spot in our conference and reach the playoffs, but if you're playing in this league, you may as well be in it to win it. As for our star player, I don't think I'll cause many people to be surprised when I believe ogre to be the centre-piece of the team, with him playing behind the two forwards we've always been at our best and my draft reflects that. I'll be hoping for Element as well to fit in nicely after looking very sharp when with our rivals Can't Score last season, and i wouldn't sleep on Aitor either. I remember you predicted him to go first in the draft to Jds, and whilst I think that would have been a little unlikely, I'm surprised a player of his talent was still available in the third round. Lastly, looking at the predictions I've seen so far I'm somehwat surprised that Savage Armada have been largely written off. I think Ozi whilst an abrazive character is a very skilful player, and alongside Aero I think they'll be very tough to beat, and that's not even mentioning all the ability and knowhow El Jefe brings to the table.
DEJA - DEJA, now captained by Stefan after Zizou has once again stepped back into a management role, has signed mainly foreign talent in the draft. The team is nicely balanced, with Premierhax veterans Stefan and Ahmed lining up with newcomers to the league in eWa and mirko. UKOriginal also plays for this side and it will be interesting to see  what sort of impact he will have on the team. The overall predictions for DEJA were that they were going to fall just short of the playoffs, but after winning the pre Season cup, maybe people's stances have changed somewhat. My opinion is that whilst DEJA have been known to be a very inconsistent team in the past, I think they will snatch 2nd place come the end of the regular season.
<18:10:22> "Sтeғαn": Hi, I think DEJA is going to win the league. A lot of people haven't seen us fs yet, but we'll prove them wrong when the league starts. DEJA's star players are Stefan, Ahmed, eWa# & mirko . Mirko is gonna have a great season, so definitely keep an eye on him. About the other teams, I think Can't Score will do very well, and I don't really have players to mention .
L8 Unseen - The 'dark horses' of the league last season finished below expectations last season, but have once again been tipped to being the surprise package of the conference. Within that package is captain Swiezcka who was one of the shining beacons of light in the team and he will be hoping to build on last season alongside league winner A. Tuntija. Kamina was the player kept, the former Hot Shots goalkeeper and season 3 winner with Channel 3 is eccentric to say the least. His risks can either create goals or lead him into conceding stupid goals, so expect their games to be high scoring ones. Fear is a very promising talent and it's a shame that he wasn't more active last season due to exams, but as I said last preview, I think this is the Dutchman's breakout season. Chaos I admittedly know nothing about but I'm looking forward to seeing what he brings to the side. My prediction is that whilst L8 Unseen have a strong attack, they will simply concede too many goals to mount a serious challenge for the top 2 spots. I expect they will take some scalps though.
<18:13:31> "Świeczka": well i dont expect a lot from my team because ive signed 5 nice players this season so that we wont argue to much. it kind of sucks that im the only uk-based player because my draft went well but i didnt sign a uk player. as you can see ive got 5 rules in our channel description that i want my team to follow, this way nobody would be angry about anyone and we will have the best atmosphere ever. to be honest, i dont give a sh*t about star players because we're a team so teams should work together to win. obviously though, tuntija and zola are the most experienced players in our team along with the mighty kamina (no hating punk pls). ive also signed fear and chaos because i know them well and theyre nice players that will play games throughout the season. all im aiming for this season apart from a nice team, is probably to have 14 pts - 1 more than last time.
LGB - Mad makes a return to captaincy as he signs a core team of both up and coming and experienced British talent, as well as two Dutch players who have also been around the block for a while as well. Mad, the captain, needs no introduction, having won numerous titles in pretty much every league and is regarded as the leagues best player by most in the community. The other experienced player is Blizzaard who has played for some Division 1 FM teams but has yet to establish himself in this league. Mad and Bliz would scare the life out of many defenses but should one not be available then they can also call on Beninho, who's made rapid improvements since being signed in the 5th round in Season 3 by mlfaijati's Can't Score. Goalkeeper Q is another player that was a part of that same Can't Score team and whilst he hasn't established himself as one of the best goalkeeper's in this league yet, the talent and attitude is definitely there to see him rise to that level. Last but not least we have the two Dutch players Diesel and Jovetic. Nebraska, formerly known as Apple can also be called on to keep the sheets clean but I don't think he'll see that much action this season due to his ping problems. Diesel is a fairly solid player and Jovetic is a capable player on his day as well. I think that whilst they have a strong team on paper, I think they will finish just outside of the top 3. Without Mad, they seem to leak goals.
<19:36:35> "Bliz": i think we will be up there at the top because we lost to the pre season cup winners in harsh circumstances which was golden goal so we held them the full normal minutes and got unlucky in extra time, this was without Mád as u know is an influentual player and a key player for us, star player is probably Mád due to his performances last season and his ability in general is decent.
Pelicans - Don't really know what to say about my own team without being biased. I think we have the potential to surprise people this season. Lumi and Speaks provide two different styles of goalkeeping, one attacking, one more conservative which gives us options depending on which team we play. Nub was considered a shock first round pick but to me he looks every bit of a first round player and it's quite shocking how underrated he is. CHE is a very solid team player that learns quickly, so expect him to have a good season. Then we have kol and mart who are both quite new to the hax scene, and I see potential in both players. Kol in particular I think has improved a lot in terms of his defending and his pressing, and mart has shown me that he has an eye for goal. I won't predict where we will finish. The aim of course is to win every single game this season and see where it takes us.
<18:40:45> "Lumi": I think we have the potential to surprise a few people this year, looking at how people are predicting us to do. We may not have the most experience but we can more than make up for that if we can perform to our full potential. CHE and Nub have the ability to turn a game on its head, Speaks is a solid gk who is more than capable of defending a lead, and mart/kol both have the potential to make a huge contribution in their first season. I'd say our star player this season will be CHE, not too flashy but is very solid in both attack and defence. One to watch is kol. Having played a lot with him in pubs it's clear to see that he's already a very good player, if he fulfills his potential he'll go on to be a star player in the coming seasons. All-in-all I think we've a very good chance of finishing in those coveted top 2 spots, just wait and see.
The Flying Peacocks - The pan has already been bubbling in the Flying Peacocks camp, so it will be interesting to see how Jds will cool it down and lead his Peacocks into battle. Jds is a firm but fair captain who will let his other players shine to his own detriment. With his right hand man Twigg playing for Can't Score this season, he will look to turn to his other former Ajhax men vaqq and dale12345 who I think are the key players in this side. DeStorm is a former ACDP player but I think he still does have some rust to shake off and may benefit more playing an outfield role as opposed to the goalkeeper role he plays in friendlies. Nacho Soup is a great striker but is not a reliable player and it's unlikely that he'll turn up to most games. Lastly there is Ton who I think is a future UK player. He has improved rapidly over a couple of months and if given game time he will shine. I don't personally see the Flying Peacocks doing much this season and like FOX HOUND last season, I think they will finish dead last.
<20:15:21> "corn": hi could you give a few lines as to how you think ur team will perform in the league this season?
<21:48:01> "Jds": hi
<21:48:03> "Jds": erm
<21:54:22> "Jds": we just want to have a nice season i think and i think well perform ok
Tanzim Conference
Can't Score - Season 2 aside, Can't Score have always been in the mix. The only team from this league to play in the Champions League, captain mlf has once again drafted smartly, with a helping hand from giggs. mlf is regarded as one of the best captains and goalkeepers in the league and you seldom see a goal fly by him into the net. To help him outfield you have Twigg who is a solid player that has also added some technical flair to his game recently and in my opinion could turn a few heads this season. His defending and reading of the game will be needed should Swift play, whose main strength is finding the back of the net. He can be quite a selfish player at times, but his greed does sometimes lead to goals or goalscoring opportunities. Alekos I haven't really seen that much of recently but I do know that he's a quality player and will be the key player in mlf's side. giggs, the ever present CS player may have somewhat stagnated or not have developed as much as people thought, but he is still one of the stronger attacking players in this league and can play with anyone. Dooms I know little about. His talent will be hidden away in there somewhere but I'm not sure how much he's showing at present. Before the cup started I had Can't Score winning the division, and despite the blip, which I do think is a blip, that prediction has not changed. The side is arguably weaker than it was last season but they should still have the quality to finish in the top two.
<15:40:35> "mlfaijati": Well, I personally think that our team certainly has the potential to finish in the 2 playoffs spots, and I'd be a bit disappointed if we didn't manage to come 1st overall in our conference. After that is really were we get into uncharted teritory, so here's hoping that we can come out of the season as premhax champions for the first time. Undoubtably our star player this season will be Alekos, I rate him incredibly highly and while he has not played in Premhax before, throughout the Season he will show with worth as being one of the very best the league has to offer. Our one to watch I suppose will be Swift, he has never really hit it off in Premhax before but he certainly has the belief that he can do great things, and I for one buy in to his optomism. I guess my views on who will be doing well is summarised in my post on the predctions thread, but as an overview the usual suspects of Mad, ogre, Stefan, Element and aeRo will be the cream of the crop. I think the Freznez conference is the stronger of the 2, as I think any of HKS, DEJA, LGB or L8 can end up winning the playoffs.
Bubblehax - This is a team that will either fly high or crash and burn. It's obvious they have talent in their ranks, but after seemingly forcing Teraquista to write a note of resignation just days after playing with his new team, it's hard to see if any other players will walk out, should things get tough. Jai is the obvious talent here and in my opinion the best player in this league. Whilst he had an off season with the Guard Dogs last season, and some could argue that he's yet to make his mark on this league, his style will guarantee you goals as well as a solidity at the back. Jai is a player that strives on perfection so it will be interesting to see if chuckdog and Wildey sing off of the same sheet. Both players are good on their day and both strive to win, but if things turn sour, they won't hold back their feelings. It was nice to see two Pelican players drafted by them in Iceman and Kirito. Iceman in particular was a surprise due to chuckdog's comments about the Greek goalkeeper, but either he's improved or it was all just a facade and chuckdog had his eye on him from day one. Kirito produced what was arguably the best performance ever seen in a Pelican shirt when he demolished L8 Unseen last season and I can see him repeating similar performances with his new teammates. deer is the last player, who I suspect will be more of a squad player but he can always be counted on to chip in with a goal or two. I think Bubblehax have quality all over the pitch, as well as strength in depth and I honestly can't see them not making the playoffs. Jai has a point to prove and the rest of the players should develop rapidly playing alongside him.
<15:46:15> "chuckdog": I think we drafted well. It was difficult not to considering we had 3 first round picks. We have a versatile team with enough players in each position and everyone is active so there shouldn't be any chance of a collapse this season. The star player is obviously Jai. Everyone knows how good he is. I don't want to fuel his ego too much but I think Wildey will surprise people this season. I think the majority of captains drafted really well. I was worried we'd see a bunch of Mr. Bean teams but the league looks really competitive at the moment. There are a lot of strong teams in our conference. Can't Score are always up there. I haven't seen much of Alekos but I've heard good things about him. Savage Armada drafted really well and have a really strong team. The only issue would be the pings of aeRo and El JeFE, but if they're ok then they have arguably the strongest starting lineup in the league, along with Ozi. Guard Dogs looked really promising in the 2nd half of last season when Mata came in and they should build on that. I'm hoping we making the playoffs but it's very competitive. As for who to look out for, I'm interested to see how Splat, El JeFE, vaqq and Twigg turn out.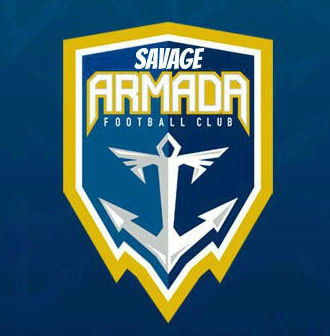 Savage Armada - Some say that Alvaro drafted strongly, but the team is new with most players playing their first ever season in the league. The veterans abi and Hop will be seen as the key players in the side and will probably play most of the games, should the former's ping allow him. Splat I think has been underrated by most in the ratings thread. He's a skillful player that's got a good brain and should get his fair share of games. Maybe if Splat and kol recruit a few Irish players then we could see a team Eire in the next Country Championships. el jefe and flossy come from the 'States and both will be looking to make their mark here, should their pings allow them. Ozi, the goalkeeper has come straight from pubs but looks every bit the real deal. Attitude is questionable at times but he is definitely a hard goalkeeper to beat. Last but not least we have Alvaro, who should take this opportunity to kick on and really improve as a player. Hopefully he plays himself this season and grabs a few goals. In terms of how well I think they will do, well whilst they do have undeniable quality, I think lack of experience will hurt them, and with abi's ping not being the greatest, I think they will finish outside the playoffs.
<17:45:52> "Alvaro": We have a mix of players in terms of ability. Therefore I am relying on the more experienced players in the squad to help one another to help this team succeed. Some friendlies showed promise therefore I believe we have the potential to make play offs. I think without a doubt our star player is Abi who is also Savage Armada's Co Captain. Splat is a player I took on as a rookie and has already shown a lot of confidence, and always wants to play. Looking at our conference I reckon sheepshaggers and can't score are teams to look out for. LGB is also an exciting team so it will be interesting to see what they come up with. This season looks to be very exciting and I would like to wish everyone good luck.
Soccerettes - It looked like there would only be one original team left in Season 5 when socrates rescinded his captaincy but MrP and Ghost came together and kept the team alive. All the players in the team have played at least one season in the league and I think that will hep them a lot. MrP is a scary player to face when he's drunk so teams in the Tanzim conference will be wary not to offer him a pre match drink. He has a good chemistry with Ghost and the two together can produce great things. Holtby, I'd argue, is a top 5 player in the league. Everything he does is perfect and with saviola in the team to play as goalkeeper, expect him to shine playing in a more favourable outfield position. Skillem is a player I almost drafted in the second round and after seeing him play, it's clear that he is of that quality. His time playing under Jds seems to have helped him a lot as his passes and tricks come off more often than they did back in season 3. We also see the return of Shootstar, the teams development player. I think he has improved slightly since last season but now he will be looking to kick on and prove a lot of people wrong. I like this team a lot and it screams solidity, but I don't think they have the quality to reach the playoffs. They can challenge, but I think lack of goals will hurt them again and they will finish mid table or even near the bottom.
<17:50:01> "MrP": I think Soccerettes will play a solid, decent and better season than last episode. Im a little bit suprised that the admins corn and ren predict our team on 5th and 6th place but iam sure we will show that both were wrong or just drunken. Atm i also cant really say which lineup we will pick but our opponents can be sure, that every lineup will make it rly good. In general "my" teams are not known for the best technic but for fighting ability and defending priority. These 2 things will become our main values. Usually iam used to say the star is the team and we also picked the team like this but after some fs iam going to say that Holtby and/or Oscar (depends of activity)  are the star players. In special regarding to Holtby i must say that his technic is outstanding and his activity too. Last but not least iam nearly very sure that the final will be Mad vs mlf. Their 2 teams are imo the best in this league and Maddude is for sure the best player in the league. If he would play in a 1 man team, he also would win the league. Cant score on the other hand have a brilliant starting 3. I hate mlf as gk and giggs as striker bceause i cant attack both at the same time  + Alekos. Ivnt seen Alekos very often in 3v3 but when he started haxball i directly have seen that he has huge talent and with the win of div1 in Fm last Season he prooved that i was right. He was main Am there and this means for me that he hasnt only striker skills, he also can defend more than solid. For this reason iam sure Cant Score will dominate our conference and the will beat Mads team in the final. Other players to watch out are for sure ogre from HKS and Stefan (that will score anyhow again 50 goals ) from Deja but its eas to call the starplayers in this league. Iam more excited onother players like Q, Cazorla and mirko. Tbh ive never noticed mirko aka Striker Eureka before but after playing some fs with him today i think he can become a star in this league.

Sheepshaggers - Honestly an underrated team from what I've seen in fs. B4D I think has now established himself as one of the better players in this league and he will be looking to pass on what he has learned to his players. Most of his players are new, so it's likely that Monstah and Pizzi will provide the backbone of the team. Both have been around the block for a while now and both have played at a high level so along with B4D they could claim quite a few scalps. shna is also a very impressive player. The German left in Season 4 claiming that he felt he had to improve and it seems like he has. He's both solid offensively and defensively and is the player to watch from this team. Flashin is a player with enormous potential and he has shown that in friendlies with his passing range and consistency and along with Fear and CHE, it looks likely that the Dutch could have quite a few strong players coming into the fore in the coming seasons. Ryan McCarthy also plays for this team and is honestly not as bad as people make him out to be. His link up play is decent and hopefully he gets some game time. A lot of people seem to be writing Sheepshaggers off this season but not me. If you consider that B4S 4SS is a captain that makes a lot of changes to his side, and the potential the squad has, a playoff place honestly wouldn't surprise me. However I'm going to say that they'll finish just outside.
<18:19:06> "B4D 4SS": i think our star player is pizzi cus he is the most skillful and can make chances out of nothing, and i think we will get off to a slow start but gradually improve as the season goes on, with shna and flashin improving at a very fast rate. I think the player to watch is flashin cus hes improved the most since the draft and much quicker than i expected from a new player with no league experience
Guard Dogs - A team that had a major turnaround at the second half of last season, could they do a Leicester and carry on that momentum into this season? The North Remembers what Ever did for the region and as such, has been reunited with his captain. I think he's one of the better technical UK players and is definitely one to watch out for in this team. Mata has played numerous seasons in this league and is the second best player in the league behind Jai in my opinion. He can play both goalkeeper and outfield effectively, can keep a cool head when everyone else is running around and knows how to find the back of the net. He will be key to how well they do this season alongside Eriksen who was controversially undrafted at one point, then redrafted rounds later. He is obviously a player Mata rates so it will be interesting to see what he does this season. Cazorla starred for the team last season and can link up well with his captain Gjonaj, so I expect the pair will line up together quite a few times this season as they aim to win the Tanzim conference. ozo is a brilliant technical player who is very difficult to stop when on song and Slayer I don't know much about yet, so hopefully I could write a line about him in the future. Overall a strong team and  could reach the playoffs, but then again might not. I can't call it, the division will be so tight this season.
<23:14:37> "Gjonaj": Gyard Dogs in season 5 are gonna be up there fighting for the top spot. This team has it all, we got the sexiest captain and leader who is by far the best mentor in the league and the chemistry between all of the players. Eriksen is a fantastic player and the best in hte league that plays with over 150 ping. Mata you all know is the pillar in the team and the flair of cazorla and ozo make us a formidable oponnent. The players to watch out for are the 2 noobies in the league Slayer and Éver. Slayer playing in his first 3v3 league and Éver making a league return to Haxball after quite a long break. That said dont be suprised if i fk this whole team up.





"We used to pride ourselves on producing midfield artists in this country. Players like Tony Currie, Alan Hudson, Glenn Hoddle and Paul Gascoigne were just a few English playmakers developed in our clubs - players who could peel an orange with either foot but sadly no longer. What a pleasure then to see an artist at work even if he is a foreigner."



https://gfycat.com/CoolBigheartedGiantschnauzer

https://gfycat.com/AthleticPhonyHylaeosaurus
destorm

New Member


Posts : 16
Reputation : 19
Status :

Sun Jul 10 2016, 00:35
Message reputation : 100% (2 votes)
You made a good job corn. Pretty relevant so far !
Guest

Guest

<21:54:22> "Jds": we just want to have a nice season i think and i think well perform ok


Shows whata fkin Mr bean he is.
Pizzi

Promising


Posts : 39
Reputation : -2
Status :

Sun Jul 10 2016, 02:41
Message reputation : 0% (1 vote)
abi

Energetic


Posts : 172
Reputation : 57
Status :

Sun Jul 10 2016, 11:14
Message reputation : 67% (3 votes)
have u nigrs not seen me playing fses on 60 ping for the last 2 weeks or wat?

really good article though corn, enjoyed reading and agreed with pretty much everything
mlfaijati

Administrator

Posts : 642
Reputation : 190
Status :

Sun Jul 10 2016, 11:41
Message reputation : 50% (2 votes)
@Gjonaj

wrote:<21:54:22> "Jds": we just want to have a nice season i think and i think well perform ok

Shows whata fkin  Mr bean he is.
lol, fuck you jds
nice preview anyway, after meditating on my own predictions after the pre-season cup i'd say that I do rate DEJA more as being the favourites for the Freznez conference.
I wouldn't trade one stupid decision
For another five years of life

Yeah, I'm losing my edge.
I'm losing my edge.
The kids are coming up from behind.
Jai.

Energetic


Posts : 121
Reputation : 15
Status :

Sun Jul 10 2016, 11:58
Message reputation : 50% (2 votes)
cant cope with strikers not finishing their chances, if gd had competent forwards last season everyone would have been saying i was playing incredibly well, but instead they fucked up and i got too frustrated and had to risk all the time, from the pre season cup we weren't too bad so should be a good season, just depends how long i can last without rage quitting really but my team are friendly guys and seem to know what they're doing, if i play all season no reason why we won't win it all
Jai.

Energetic


Posts : 121
Reputation : 15
Status :

Mon Jul 11 2016, 20:26
Message reputation : 33% (3 votes)
@Jai.

wrote:cant cope with strikers not finishing their chances, if gd had competent forwards last season everyone would have been saying i was playing incredibly well, but instead they fucked up and i got too frustrated and had to risk all the time, from the pre season cup we weren't too bad so should be a good season, just depends how long i can last without rage quitting really but my team are friendly guys and seem to know what they're doing, if i play all season no reason why we won't win it all
i fucking called it
Guest

Guest

@Jai.

wrote:

@Jai.

wrote:cant cope with strikers not finishing their chances, if gd had competent forwards last season everyone would have been saying i was playing incredibly well, but instead they fucked up and i got too frustrated and had to risk all the time, from the pre season cup we weren't too bad so should be a good season, just depends how long i can last without rage quitting really but my team are friendly guys and seem to know what they're doing, if i play all season no reason why we won't win it all

i fucking called it
gimme next week Euromillion numbers
Permissions in this forum:
You
cannot
reply to topics in this forum