Guest

Guest

Just a quick draft roundup in no specific order.

1. Lesbian Gay Bi Trannies -  Maddie probz will carry em to wonderland. Benjamin with 100 goals and Q wid 20 Cleansheets. But how annoyed was Maddude. According to my pigeons him n aero spent 2 days looking at possible draft picks.

2. Savage Armageddon - aeRo will turn up everyday just to beg alvaro for him to trade to LGBT. Ozi and Hop are 2 top gk and both are massive bellends. Splat is ginger, and the other 2 are bench players anywayz. Pretty good picks from Arshavin, lets hope aeRo don't offer him a blowjob.
I swear I'm not jealous.

3. #Maddudefkedmywholedraft - they had 3 first round picks. They picked 1 first round quality player. Who said more is more?

4. Can't Probably Score but sumtimes we do - man like mlf, probably sent a million swear words at my way for taking too long in draft. It was all a master plan to leave giggs in charge...

5. L8 Unseen - Racist cunts didnt pick one english player, u can see the herna effect is already taking place. (Like it did last ssn when they came 9th)

6. The Flying Cocks - (Jds: Don't Poke FFS) didnt shock anyone by picking a few Mr beans but did shock us by not getting his buddy Twigg. He must be heartbroken.

7. Pelicanos - Corn: I'm going to pick a competitive team. Corn: Nub

8. Sheep - why wud u fk up ur future for a brief moment of goodness. Lets hope shna actually comes otherwise b4d gonna be looking like a bigger tard than he did whilst he was typing with his nose in the 8-2 defeat to Gyard dugs.

9. Shocs - MrP promoted ahead of ghost, Soc gone. Rip socceret...O wait, they actaully drafted a few good players. Maybe now the pub player shootstar can learn how to score open goals.

10. DEJA!! - Apparently Stefan got Admiral to ddos zizou on draft day. Whatever the story these mans are dark horses espescially with UKoriginal in the fold.

11. HKS - renly of house lancaster made sum interesting picks. Risky move picking element but according to my pigeons  (shoutout to em) its a excellent pick. Ogre n Element could be the ones knocking that prick maddude of his perch.

12. Gyard Dogs - captain chooses a nick like a queen chooses a dress. Probably spent more time looking at players with better looking names than better ability. Apparently a big fight between punk n mata on the 2nd round controversy  almost led to a cut.
somalian

Hyperactive


Posts : 97
Reputation : -28
Status :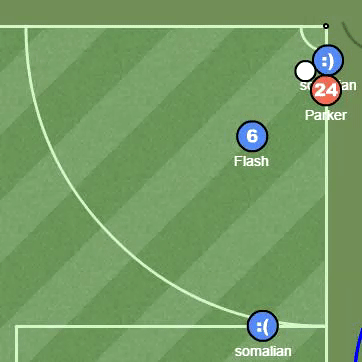 Guest

Guest

Guest

Guest

lmao wp. so when does the season start then?

https://drive.google.com/file/d/0B_zEOgQMqXguNnBzcjY5clFTUlE/view

full draft list if anyone wants it
gred 2.0

PremierHax Member


Posts : 61
Reputation : 20
Status :

nobody picked qezo poor guy
Permissions in this forum:
You
cannot
reply to topics in this forum